Barbados Travel Guide - samlad information för mitt nästa reseledarjobb. Originalet
här
.
Unlike many other Caribbean islands, you would never use the word "sleepy" to describe
Barbados. The island's vibrant culture and rich history come to life in its lively Bajan
festivals, nightlife, and friendly people. Famous luxury resorts are a big draw, but you
can also find fun in a local rum bar. And you can't beat the restaurants here, renowed
as some of the best in the Caribbean.
Barbados Basic Travel Information
•Location: Easternmost of the Caribbean islands, in the West Indies north of Venezuela.
•Size: 21 mi/34 km long, 14 mi/23 km wide. See Map
•Capital: Bridgetown
•Language: English
•Religions: Protestant, Roman Catholic
•Currency:Barbadian Dollar; U.S. dollar widely accepted.
•Telephone/Area Code: 246
•Tipping: 10-15%
•Weather: Dry season January-June; rainy season June-October;
trade winds moderate tropical temperatures year-round.
•
Barbados Flag
•
Barbados Consular Information Sheet
•
CIA Factbook: Barbados
Barbados Attractions
Cave tours, restored plantation homes, wildlife preserves, gardens and rum or cigar factory tours are just a sampling of Barbados' many and diverse attractions. Bridgetown is a great city for strolling, and the island's many museums are a testiment to Bajans' proud history and sense of identity. Golf and watersports are popular, as are outback tours by horse, on foot, or on an ATV or 4x4.
Barbados Beaches
Surfers flock to Barbados' East Coast for big-wave action, while families prefer the calmer waters of the West Coast; beaches here are typically lined with resorts. Many of the South Coast beaches have reefs that invite snorkelers. For solitude, try Bottom Bay near Sam Lord's Castle. All beaches in Barbados are free and open to the public, but there's no nude sunbathing.
•
More Info on Barbados Beaches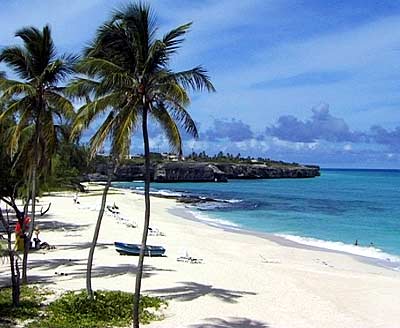 Beach List for Barbados
Barbados Hotels and Resorts
Barbados has a reputation as an upscale destination, so it's no surprise to find resorts from brands like Fairmont and Hilton among the big hotels. Sandy Lane is perhaps the most famous: Tiger Woods got married there. But while luxury dominates the west coast, moderately priced hotels, inns and guest houses can be found on the south coast and elsewhere. Barbados also has many luxury villas – private homes that can be rented, even fully staffed.
Barbados Restaurants
Casual by day, island-sophisticated by night, Barbados' restaurant scene is typically mixed. One nice aspect: you can actually find an inexpensive meal, such as stands selling "roti" – pastries stuffed with spicy potatoes and meat. Flying fish and cou cou (a mash of corn meal and okra) are the national dishes, found on the menu of Barbados' many local restaurants; the island also has an abundance of elegant eateries serving cuisine from around the world to Barbados' discriminating visitors -- some led by the only Zagat guidebook in the Caribbean.
•
More Info on Barbados Restaurants
Barbados Culture and History
Barbados was settled by the British in 1627, and endured a slave-driven sugar plantation economy for 200 years. Sugar, molasses and rum are still parts of the economy, but tourism took the lead in the 1990s.
Barbados won independence in 1966, although it remains part of the British Commonwealth. A mix of British stoicism and African-flavored joie de vivre typifies today's Barbados: the Bajan dialect you'll hear English spoken with is a perfect example of the mix.
The island was uninhabited when first settled by the British in 1627. Slaves worked the sugar plantations established on the island until 1834 when slavery was abolished.
The economy remained heavily dependent on sugar, rum, and molasses production through most of the 20th century. The gradual introduction of social and political reforms in the 1940s and 1950s led to complete independence from the UK in 1966. In the 1990s, tourism and manufacturing surpassed the sugar industry in economic importance.
•
More Info on Barbados Culture & History
Barbados Events and Festivals
The annual sugar-cane harvest was the original Crop-Over; today, Barbados' biggest festival runs three weeks spanning July and August, peaking with the annual Kadooment parade.
The yearly Holetown Festival marks the first British settlement with a street fair and parade. Barbudian sophistication is evident at March's Holders Season, which brings in opera, Shakespeare, and other performing arts.
Barbados Nightlife
Bridgetown is known as one of the nightlife capitals of the Caribbean. You'll find everything from big-city sized discos to open-air dance clubs and bars with local bands banging out reggae, calypso, soca and more.
Dinner cruises also are popular, and a lingering dinner at one of the island's great restaurants is always a romantic option. St. Lawrence Gap in Christ Church has staged dinner shows, street parties, and a variety of nightclubs with live music.